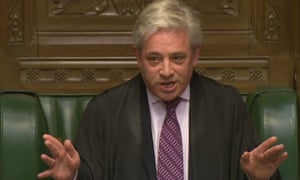 Donald Trump still has not earned the right to address the Houses of Parliament, the Speaker has said.
John Bercow controversially vetoed the idea of the US president speaking in parliament's Westminster Hall, an honour which was given to his predecessor Barack Obama, shortly after Theresa May invited Trump to visit the UK.
A year on from Trump's election victory, Bercow said his view remained that the US president did not deserve the honour of speaking to MPs and peers in the historic hall. In February, Bercow said he "strongly opposed" the idea of a presidential address in parliament and the Speaker said he still held that view when asked about his stance at an event on Thursday night organised by Queen Mary University London's Mile End Institute."An address to both Houses of Parliament is not an automatic right; it is an earned honour," he said. "My view is that he has not earned that honour."
The Speaker said he was "not repentant" about the row resulting from his veto. "Yes, I was speaking my own view. I had a sense that I was speaking for a majority of the House. I was unscripted."
He acknowledged that "some people think that I spoke more forcefully than I should have done", but he said he had been reacting to suggestions which "seemed to be emanating from government" that Trump should follow in Obama's footsteps and speak in Westminster Hall.
"An invitation to address both Houses of Parliament is not a bauble to be handed out by the prime minister of the day. It is not a government prerogative; that is a matter for the speakers of the two Houses," Bercow said.
His decision was based partly on the "huge controversy" attached to Trump, particularly over his migrant ban policy, and the "extraordinary" speed with which the idea of a speech had been floated.
Obama won the 2008 election but did not make his Westminster Hall speech until May 2011. "The idea that the prize should be offered to President Trump within weeks of his election struck me as absolutely extraordinary," Bercow said.
Defending his intervention, Bercow said he had been given a say in who should be invited to speak. "You can't be impartial between wanting to invite someone and not wanting to invite someone."
There were people who were "very angry" about his stance, he admitted, but "I genuinely felt I was speaking for a majority of my colleagues".
No date has yet been confirmed for Trump's state visit to Britain, which is said to have been delayed to avoid protests.
source:-.theguardian.