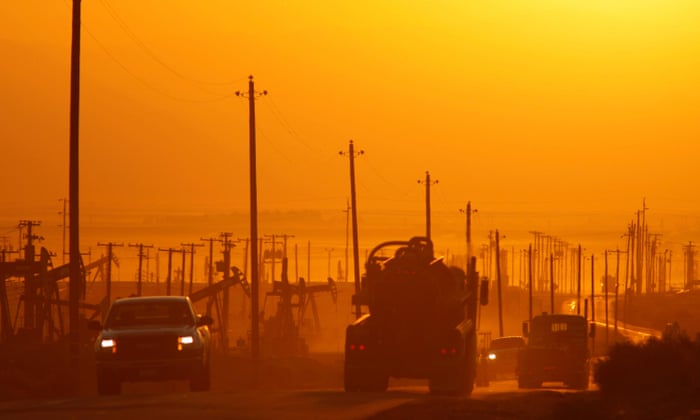 Oil prices have fallen sharply along with other commodities as the prospect of slowing growth in the US and China blunts optimism about the global economy.
Stocks fell across the Asia Pacific region for the third day running thanks to a 5% drop in the oil price on concerns of a supply glut. Analysts have forecast further losses amid signs that demand will not be strong enough to soak up the excess production.
Iron ore and copper also fell sharply and analysts warned of a gathering commodities rout.
"The falls in commodities prices definitely tell us there is some kind of a moderation under way in the global economy and I would advise taking some money off the table at these levels," said Cliff Tan of Bank of Tokyo Mitsubishi UFJ in Hong Kong.
Ric Spooner, chief market analyst at CMC Markets in Sydney, said: "The commodity optimism of earlier this year looks to be in the process of being completely unwound. Last night's sharp drop in the oil price and further weakness in metals prices will deliver another negative start for [resource stocks] today."
Oil prices plunged to five-month lows on Thursday amid record trading volume in Brent crude, as Opec and other producers appeared to rule out deeper supply cuts to reduce the world's persistent glut of crude.
The cartel agreed to cut production in December but the price bounce from the resulting reduction in supply has waned. Compounding the situation, US crude output has risen more than 10% since mid-2016 to 9.3 million barrels per day, Reuters said, levels not far off the biggest producers Russia and Saudi Arabia
Brent, the global benchmark, settled at $48.38, or 4.75% lower, after tumbling as much as 5.17% during the session. US crude ended the session 4.81% lower at $45.52 per barrel after falling as much as 5.29% to an intraday low of $45.29, the lowest since 29 November.
Copper prices slid to four-month lows, following their biggest one-day drop in 20 months while Chinese iron ore futures tumbled 8% on Thursday on concerns that global commodity demand are set to fall sharply.
The weakness in commodities washed over to stocks, countering some fairly solid earnings reports and some cautious optimism about Donald Trump's reform plans after the US House of Representatives passed a healthcare overhaul.
Australia's ASX200 share index was down 0.8%, weighed by the mining and resource sectors, while the Hang Seng was off 1.25%. Japan and South Korea remain closed for the spring holiday.
The FTSE 100 was set to open slightly down on Friday morning, according to futures trading.
In currencies, the Australian dollar has been hit hard, falling nearly 0.5% against the US dollar in the past 24 hours. It is currently buying US73.75c, down from US74.27c.
Traders also remained cautious ahead of Friday's US government payrolls report, following March's underwhelming 98,000 figure. Economists on average expect 185,000 jobs were created in April.
Commodity Trading Advisors were among those liquidating their oil contracts, traders said.
"While Opec is expected to extend a self-imposed production cap by another six months, it will be a challenge to convince several non-Opec members to follow suit," said Abhishek Kumar, senior energy analyst at Interfax Energy. "Persistent growth in US oil production … will also make extensions of the Opec cap beyond 2017 unlikely."
There was also a sign of slowing energy demand in China, the world's second largest oil consumer, when a survey showed growth in that country's services sector in April was at its slowest in almost a year.
Late last year, Opec and other producing countries announced production cuts of 1.8 million barrels per day for the first six months of this year.
Even so, Gene McGillian, manager of market research at Tradition Energy in Stamford, Connecticut, said, "We still have a near record overhang and signs of increasing production in areas of the world outside the producers that agreed to the cuts."
"At some point, the market should recognize Opec isn't the most important player in the market any more," said Commerzbank's Eugen Weinberg, "That is non-Opec, and, above all, US shale."
[Source:- theguardian]