Nike Inc. rallied after the athletic brand delivered a rosy forecast and announced plans to forge a closer relationship with shoppers, a move that will let Amazon and Instagram users buy its sneakers directly.
The athletic brand expects sales to increase by a mid- to high-single-digit percentage this year, excluding currency effects. The prospect of faster growth helped send shares of Nike up as much as 8.5 percent in late trading on Thursday.
The upbeat forecast follows a slowdown at Nike, especially in the key North American market, that had raised concerns the sporting-goods giant was losing its edge. Adidas AG, a hot commodity in the U.S. after falling out of favor for years, has been a particular threat.
But Nike assured investors Thursday that the region will rebound. While North American sales are expected to dip in the first half of fiscal 2018, they should post a gain for the full year. New products will be key to the resurgence, Chief Executive Officer Mark Parker said.
"I've never felt as energized by what we have from innovation coming into the pipeline," he said on a conference call. "That's why we're so confident."
The shares rose as high as $57.69 in after-hours trading. The stock had lost 3.6 percent in the past year through Thursday's close.
Nike also posted better-than-projected earnings in the fiscal fourth quarter, which ended May 31. Profit amounted to 60 cents a share in the period, compared with a 50-cent estimate of analysts.
The company had rattled shareholders three months ago with disappointing sales, signaling that Adidas and Under Armour Inc. were grabbing market share. The latest results suggest Nike is doing a better job defending its turf — especially in overseas markets.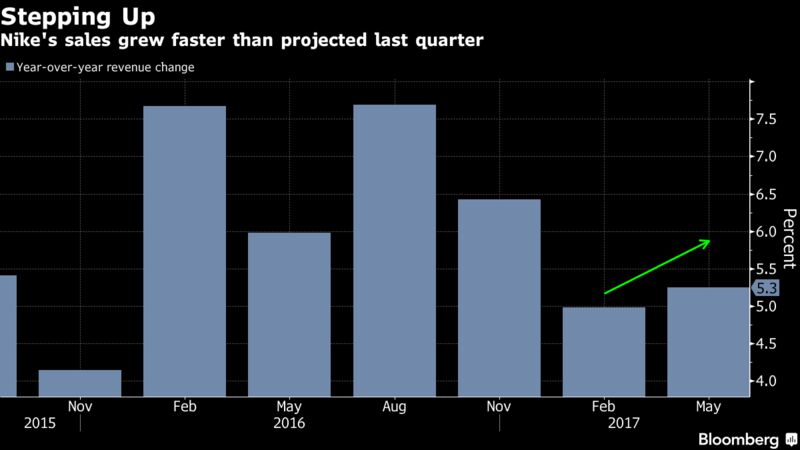 But even with the brighter outlook, Nike's efforts are still a work in progress. The Beaverton, Oregon-based company has been cutting jobs and shaking up management ranks in a bid to speed up its operations and reduce bureaucracy.
It's also increasingly trying to bypass retail partners and sell athletic gear directly to customers. That effort — called the Consumer Direct Offense — is being overseen by Nike brand President Trevor Edwards, a possible successor to Parker as CEO.
As part of the push, the company announced a project on Thursday to sell shoes through Instagram, the popular photo app. It also confirmed plans to offer its wares directly through Amazon.com Inc. — an initiative that was previously reported by Bloomberg last week.
A "limited" number of products will be available on Amazon, Nike said on Thursday. The partnership has scared Nike's existing partners, sending shares of Foot Locker Inc.and other retailers plummeting when it was first reported.
"We're in the early stages, but we really look forward to evaluating the results of the pilot," Parker, 61, said on the call.
Instagram Deal
With the Instagram agreement, Nike becomes one of the rare brands able to sell goods within the app. Instagram, part of Menlo Park, California-based Facebook Inc., has been working on ways to get its users to shop while they browse photos.
As part of Nike's belt-tightening plan announced earlier this month, the company will cut 2 percent of its workforce — about 1,400 job. It's also simplifying its organization to focus on four regions, rather than six.
Revenue rose 5.3 percent to $8.68 billion in the fourth quarter. That topped the average estimate of $8.63 billion. Sales in North America, Nike's largest and most competitive market, were flat. But the company posted stronger growth in China and emerging markets.
When it reported results for the previous quarter in March, the company said that global orders fell 1 percent — the first drop since the recession in 2009. That knocked down the stock the most in 19 months.
On Thursday, it said orders for the Nike brand from June through November were little changed when excluding currency fluctuations. The benchmark, long a key data point for investors, declined 10 percent in North America and advanced 12 percent in emerging markets and China.
Sales Targets
Nike, founded more than 50 years ago as Blue Ribbon Sports, still has ambitious growth targets. It said in October 2015 that it plans to increase annual sales to $50 billion by the end of fiscal 2020. For fiscal year that just ended, revenue rose 6.1 percent to $34.4 billion.
Investors have been waiting for Nike's home market to bounce back, said Brian Yarbrough, an analyst for Edward Jones & Co. Another concern: Gross margins trailed expectations last quarter.
"They are definitely doing some things right," he said. "But there are still a lot of questions around the U.S. market."
[Source:- bloomberg]