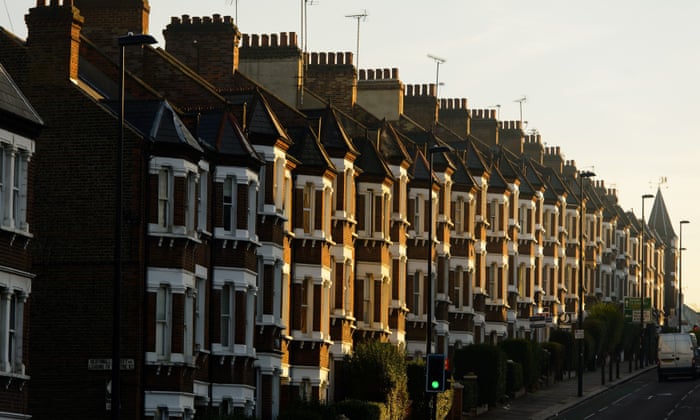 London house prices suffered a sharp slowdown in the second quarter, rising at the weakest rate in five years and falling behind the rest of the UK according to the latest snapshot of the property market from Nationwide.
Annual price growth in the capital dropped to 1.2% between April and June, from 5% in the previous quarter. It was the slowest growth since 2012 and fell below the 2.8% rise across the country as a whole.
Of the 13 regions included in the Nationwide report, only the north-east and Cumbria experienced a slower rate of house price growth, at 1.1%.
"There has been a shift in regional house price trends," said Robert Gardner, Nationwide's chief economist. "Price growth in the south of England has moderated, converging with the rates prevailing in the rest of the country."
Gardner said a number of factors might explain the sharp slowdown in London, including a stretch in affordability and weaker demand for buy-to-let properties because of higher stamp duty charges. He also said it was relative, with prices in the capital slowing from a high base. House prices in London are still 56% higher than they were in pre-crisis peak in 2007, compared with 13% in the rest of the UK.
The gap between the strongest-performing region of East Anglia and the weakest in the north is the smallest since records began in 1974, but there is still a huge price gap between locations. The average price of a home in London is £478,142 according to Nationwide, compared with £125,237 in the north.
In June alone, UK house prices rose for the first time in four months, with the average price of a UK home up 1.1% at £211,301, following a drop in prices in the previous three months. It pushed the annual rate of growth to 3.1%, from 2.1% in May.
The rise comes despite a weaker backdrop by household finances, which are being squeezed as inflation outpaces wage growth.
Gardner said it was unclear whether the rebound in UK house price growth in June was the result of healthy demand driven by rising employment, or because buyers had limited choice with too few properties coming on to the market.
"Given the ongoing uncertainties around the UK's future trading arrangements, the economic outlook remains unusually uncertain, and housing market trends will depend crucially on developments in the wider economy," Gardner said.
"In our view, household spending is likely to slow in the quarters ahead, along with the wider economy, as rising inflation squeezes household budgets. This, together with ongoing housing affordability pressures in key parts of the country, is likely to exert a drag on housing market activity and house price growth in the quarters ahead."
Nationwide is predicting UK house price growth will slow to about 2% in 2017, from 4.5% in 2016.
[Source:- theguardian]