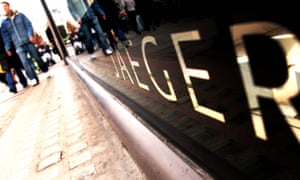 Fashion chain Jaeger has collapsed into administration, putting 680 jobs at risk.
The brand, which dressed Audrey Hepburn and Marilyn Monroe in its heyday, had been trying to find a buyer to keep its 46 stores going, but its owner threw in the towel on Monday and appointed administrators.
The private equity owner of Jaeger, which dates back to 1884, has appointed administrators at Alix Partners after proving unable to find a buyer for a suggested price of £30m.
The company has failed to turn a profit since private equity veteran Jon Moulton's Better Capital bought the firm for £19.5m in 2012.
Jaeger employs about 680 staff across 46 stores, 63 concessions, its head office in London and a logistics centre in King's Lynn.
Peter Saville, Ryan Grant and Catherine Williamson, joint administrators at Alix Partners, said they had been called in "at the request of Jaeger's directors as a result of the company being unable to attract suitable offers".
"Regrettably, despite an extensive sales process, it has not been possible to identify a purchaser for the business," Saville said. "Our focus now is in identifying an appropriate route forward and to work with all stakeholders to do this."
Last week Better Capital sold Jaeger's debt to a company understood to be controlled by the retail billionaire Philip Day, who heads Edinburgh Woollen Mill.
Insiders now expect most of Jaeger's stores to close down, although the brand is likely to survive as part of the EWM stable, which includes Jane Norman, Peacocks and Austin Reed.
Jaeger was founded as Dr Jaeger's Sanitary Woollen System Co Ltd in 1884 by Lewis Tomalin, an accountant who was inspired by a health craze promulgated by Gustav Jaeger, a German professor of zoology. Jaeger believed people would be healthier if they dressed in clothing made from animal hair, wool and fleece.
Earlier this year, Better Capital hired Alix Partners to flush out interest from potential partners or to find a buyer. Last year, Jaeger's sales fell from £84.2m to £78.4m and it made a £5.4m pre-tax loss, according to accounts filed at Companies House.
Jaeger is the latest in a long list of retailers to suffer from difficult trading conditions on the high street and the increased cost of imported materials due to the collapse of the pound. Jones Bootmaker was rescued by Endless in a pre-pack administration deal last week and 99p Stores was placed into administration in March. The 99p Stores chain collapsed less than two years after rival Poundland bought it for £55m.
Andy Brian, head of retail at Gordons law firm, said: "This is another blow for the high street and, crucially, another indication of the huge consumer shift towards online shopping. Like BHS last year, Jaeger has failed to capitalise on the growth of online retailing. As a result, it has been left behind – and left struggling – where other fashion retailers have grabbed the opportunity.
"Jaeger has relied on its concession model but it's clear that having a bricks and mortar presence on the high street – even in this cost-effective way – is no longer enough. Online shopping is growing faster than ever and retailers must keep up, otherwise they will no longer be able to compete. Jaeger are not the only chain to have struggled with this shift – and we can expect more famous retail brands to go into administration this year for the same reasons."
[Source:- Gurdian]