Miner signs $7.7bn loan commitment, with shares jumping more than 10% as investors applauded its ability to secure new lending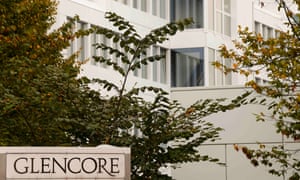 Concerns about the financial health of the commodities company Glencore have receded after its banks queued up to take part in a multi-billion-dollar debt refinancing.
Glencore said its 37 main lenders offered up to $8.4bn (£5.9bn) of loans, some $3bn more than they had previously made available to the company. The offering was scaled back to $7.7bn and the refinancing process will be opened up to a further 30 banks in the second quarter of the year, potentially taking the total above $8bn.
Shares in the Switzerland-based miner jumped more than 16% to £1.20 by close of trading on Wednesday, as investors applauded Glencore's public demonstration of its ability to secure new lending.
It had been the subject of anxious speculation over the scale of its debts in the light of tumbling prices for the commodities it sells. Despite announcing plans toslash its net debt by $10bn last year, its share price has fallen 62% in the past 12 months as fears about its financial health have persisted.
Glencore is understood to have refinanced deliberately early on the annual debt restructuring to allay any lingering concerns. It also felt the need to move fast in case strain in the global banking system makes credit more expensive over the next few months.
The company is understood to be paying more for this loan than the previous credit line, but analysts at RBC Capital Markets estimate the extra cost at a relatively small $10m.
Glencore said the new lending facility was unsecured, has no covenants attached to it and includes an option to extend by 12 months. It added that it now has no need of debt refinancing until May 2018 at the earliest.
Analysts at Bank of America Merrill Lynch said the cost of the loan, understood to be about 100 basis points above the US dollar Libor rate, was "a very positive surprise".
The bank's analysts said the new facility would give Glencore "breathing room" to continue its debt reduction plan, likely to involve the sale of its agricultural division for up to $4bn.
Despite the jump in its share price, the stock remains well below its 2011 float price of £5.30 owing to the global commodity price slump.
[Source:- Theguardian]