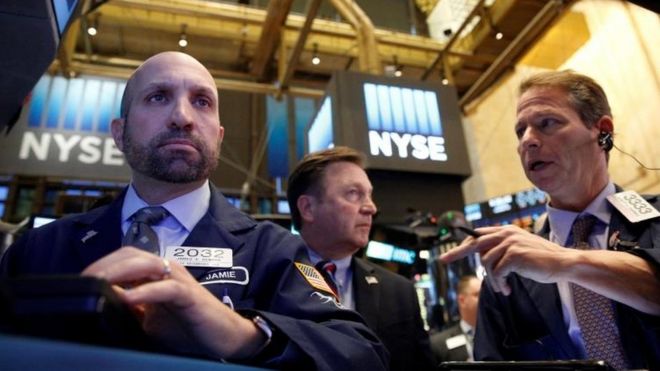 The Dow Jones hit another record high on Monday as US stocks continued to benefit from Donald Trump's election victory.
After experiencing its biggest weekly percentage rise since December 2011, the Dow Jones closed closed up 21 points, or 0.1%, to 18,868.6 points.
Financial stocks helped the rally, with Goldman Sachs and JP Morgan among the biggest gainers.
However, the broader S&P 500 index fell 0.25 points to 2,164.2.
Shares in automotive electronics-maker Harman International Industries jumped by a quarter after Samsung Electronics said it was buying the company for $8bn (£6.4bn).
The tech-focused Nasdaq index was also lower, down 0.36% at 5,218.4.
The sell-off in the bond market continued, with investors expecting Mr Trump's policies to lead to increased government spending and higher inflation.
Yields on US 10-year Treasury bonds rose to 2.3% on Monday, the highest since January. When bond yields rise, the price of bonds fall.
[Source:- BBC]