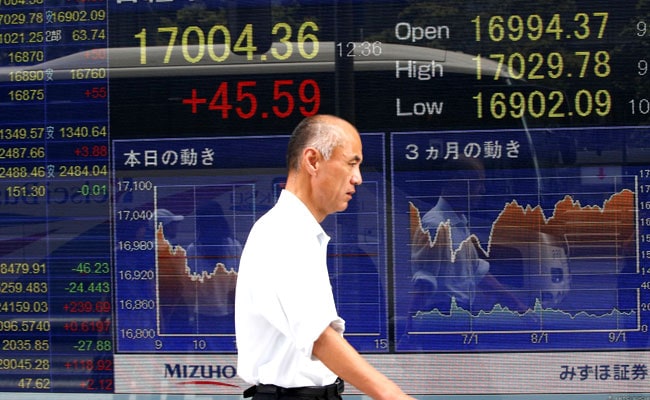 MSCI's broadest index of Asia-Pacific shares outside Japan was fractionally lower. Japan is closed for a holiday.
Singapore: Asian stocks were slightly weaker early on Monday, following Wall Street's declines and the G20's decision to drop a pledge to avoid trade protectionism, while the Federal Reserve's seemingly dovish stance last week continued to drag the dollar lower.
MSCI's broadest index of Asia-Pacific shares outside Japan was fractionally lower. Japan is closed for a holiday.
On Friday, Wall Street was flat to negative, dragged lower by bank shares that fell along with Treasury yields.
Financial leaders from the world's biggest economies reiterated their warnings against competitive devaluations and disorderly foreign exchange markets at the meeting in the German town of Baden-Baden over the weekend.
But they failed to agree on a commitment to keep global trade free and open, highlighting a global shift towards protectionism.
"Essentially it's a result of the U.S. protectionist stance, something (President Donald) Trump has been very clear on and the market is well aware of this," James Woods, global investment analyst at Rivkin Securities in Sydney, said.
"Importantly we saw other leaders such as (Japanese Prime Minister) Shinzo Abe and (German Chancellor) Angela Merkel come out publicly supporting free trade, and for now the protectionist stance remains constrained to the U.S. It would be more concerning if this began spreading to other countries."
The dollar, however, didn't react to the statements from the meeting, hovering close to its near-three-week low touched on Friday. It traded 0.1 percent lower at 112.57 yen.
The dollar index, which tracks the greenback against a basket of six trade-weighted peers, inched lower to 100.26, having touched a 5 1/2-week low on Friday.
Markets are focused on a raft of speeches by Federal Reserve officials this week, including Chicago's Charles Evans on Tuesday and Friday, Chair Janet Yellen on Thursday and Dallas' Robert Kaplan and Minneapolis's Neel Kashkari on Friday and New York's William Dudley on Saturday.
The euro climbed 0.1 percent to $1.0748 after riding the relief over the Netherlands election defeat of anti-European Union candidate Geert Wilders to hit a near-six-week peak on Friday.
Attention now turns to the French election, with the first Presidential debate set to take place on Monday. Opinion polls show independent centrist Emmanuel Macron would lead far-right leader Marine Le Pen by a hair in first-round voting, before beating her in the run-off.
In commodities, oil prices continued their downward trend as doubts grew about the effectiveness of OPEC cuts in containing a supply glut as U.S. inventories continue to climb.
U.S. crude fell 0.6 percent to $48.50 a barrel.
The weaker dollar boosted gold, which added 0.2 percent to $1,230.50 an ounce in early trade.

["source-ndtv"]