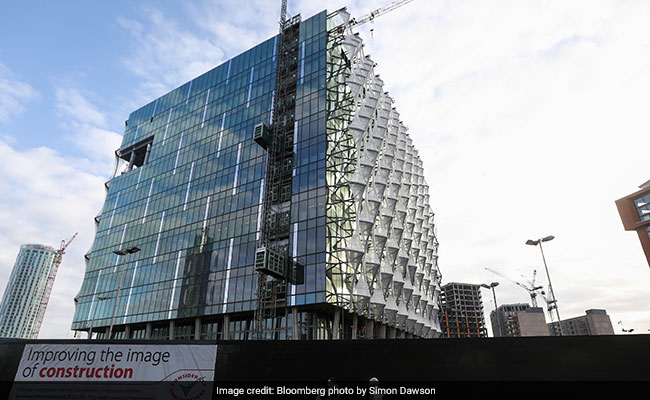 LONDON: 
 The gleaming new U.S. embassy in London opened on Tuesday with little fanfare and no official ribbon cutting. President Donald Trump sparked a furor here last week when he tweeted that he wasn't coming to open the $1 billion building – the most expensive embassy every built – because it was a bad real estate deal and in an "off location."
Many of those who live nearby took offense to Trump's description of the location, but others said that the former New York real estate mogul makes a point.
The shiny embassy is located in Nine Elms, a massive redevelopment area on the south banks of the river Thames. The embassy is significantly larger than the old embassy, and is slightly closer to Westminster.
In interviews on Tuesday outside the embassy and in the surrounding area, it quickly became clear that one person's "off-location" is another person's "up-and-coming."
On Tuesday morning, the first day the embassy officially opened to the public, a small queue formed outside the entrance for consular services. A few yards away, dozens of construction workers in yellow vests and hard hats were hammering, drilling and banging.
"I can see why someone would say it's [an] off location," Sheron Cloyd, a 41-year-old project manager from New York said over the sound of a chain saw. "It's not in the city center, it's south of the river."
But Cloyd, who also lives south of the river – one of London's physical dividing lines – said that the area near the embassy has become trendy over the last few years.
"When I first moved here, someone said Vauxhall used to be horrible. Not any more. It's very expensive and trendy, kind of like Brooklyn – and as someone from Brooklyn, I would know," he said. Like others standing in the line, he got off at the Vauxhall subway station and within a few minutes, noticed a giant U.S. flag flapping in the wind. It's about a 10-minute walk to the embassy.
The old embassy was located in Mayfair, one of London's most exclusive neighborhoods, and in a square steeped in American history.
But if Mayfair is the place of today and yesterday, Nine Elms is arguably the place of tomorrow.
"This is a lovely, large store. All that's missing is the people," said a sales clerk in a nearby grocery store.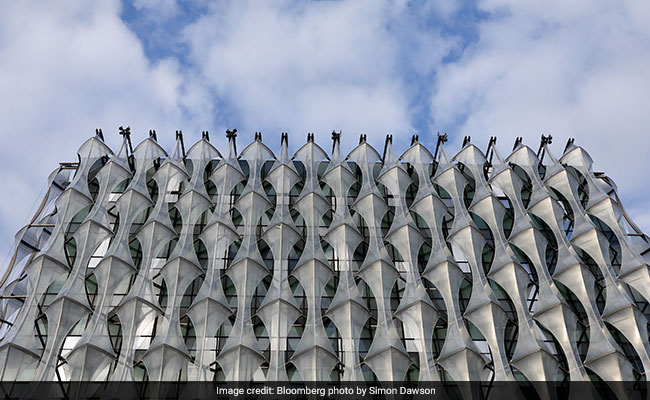 Daniel Thomas, a journalist for the Financial Times, agreed that Trump had a point about the location. "Say what you like about Donald Trump's politics but the US president knows his real estate," he wrote.
"The new embassy is the centrepiece of the vast Euro 15bn Nine Elms development that is at risk of being overbuilt and under thought. Some agents are already warning that the 20,000 homes will become a wasteland of empty buy-to-let flats owned by Asian investors."
But others, like Yakine Abdullah, 22, a business management student from Iraq who was waiting outside the new embassy, said that the area was not just up and coming, it was alive and flourishing today.
"Four years ago, I lived in Vauxhall, and it was more dodgy," but in three years, there has been a lot of construction, and the area has changed for the better, she claimed. "I now live very close to here, and it's my favorite area to live in," Abdullah said.
The embassy is located in the London borough of Wandsworth, where the council leader disputed Trump's description of the area.
"As opposed to being 'off location' I would say Nine Elms is very much London's most exciting destination with a huge amount to offer," Ravi Govindia said in a statement posted on the council's website last week. He noted that the area is slated to have two new subway stations and that Penguin Random House and Apple UK have announced plans to move in.
The Dutch embassy is also considering moving to the area.
In addition to the U.S. embassy, the Euro 15 billion Nine Elms development includes the Battersea Power Station, a former coal station that lay empty for decades. The iconic building, with its towering white smoke stacks, famously featured on the cover of Pink Floyd's album "Animals."
Henry Pryor, a London property expert, said that the rumored figures for the sale of the old U.S. embassy – estimates range from Euro 300 million to Euro 500 million – seemed like a "fair deal." "I don't think it was knocked out cheap. It looked exactly like it should've looked," he said.
But while the price tag for the Mayfair building didn't give him pause for concern, he said that the location of the new embassy did.
When he heard that the U.S. embassy was moving to Nine Elms, he said it was like hearing about "prospectors heading West," adding that other than "fantastic views," the area at the time was "desperately unfashionable" with "little to commend about it."
But he added he looked forward to the new U.S. embassy "blazing a trail" in the area.
Peter Mackie, senior partner at Property Vision, said that given the United States wanted more space and security features – new embassies have to have a 100-foot perimeter – Nine Elms was "as good as anywhere."
"Looking forward, how that site will perform, that's anyone's guess," he said, adding that Battersea Power Station is "extraordinarily iconic location," but that the area becomes "more tenuous" as you walk away from the building.
For some Americans in London scrambling to sort out passport or visa issues, the very fact that the new embassy isn't in a highly built-up location was welcome.
"It's beautiful down here, with the wharf, it's easy to get to, a 10-minute walk from the station," said Julian Tejeda, a 22-year-old who lost his passport but was hoping to get a new one pronto to meet up with friends in Germany. He went to the old U.S. embassy on Monday, which he said was "harder to get to" because of all the tiny streets in central London.
Pointing in the direction of the new embassy, which has a small moat, he said: "This location is much more open."
["Source-ndtv"]